Above are just some of the life-changing benefits reported by people who have experienced Potentiation Electromagnetic Repatterning.
"I potentiated my 11-year-old son with autism this past May. Within weeks, his rash on his legs that he's had for 5 yrs disappeared. We also discontinued supplements/meds he was taking for gut health and brain inflammation. His motor skills improved as well and is becoming more aware as the days pass. Lately, he's been becoming more consistent in his progress in school as well and I'm getting more good days on his progress book from his teacher than difficult ones. It's only been 3.5 months and I am so excited to witness his healing taking place. I am truly grateful that I found the book POTENTIATE YOUR DNA. It is life changing and this method has inspired me so much that I became a facilitator for the Regenetics Method. To see my son making progress as the days pass just fills me with hope. And I hope that other children in the spectrum will be able to experience the benefits of Potentiation." Mar V.
The first DNA activation in the "revolutionary healing science" (NEXUS Magazine) of the Regenetics Method, Potentiation employs special linguistic codes—produced vocally and mentally—to stimulate a self-healing and transformational ability in DNA.
"As a singer and pianist, I have felt the healing properties of sound so I was curious when I came across this work … After my session and since, I have felt a new clarity and ability to focus; life has become more joyful and magical. POTENTIATE YOUR DNA is a gift of love, offering to all a simple, profound, elegant system of personal empowerment and self-healing." Carolyn Barnes, author of RETURN TO EASE
"POTENTIATE YOUR DNA is brilliant and cutting-edge. Luckman has succinctly and elegantly provided a comprehensible intellectual framework for understanding the profound role of DNA in healing and transformation. The author also takes the extraordinary step of including instructions for performing your own DNA Potentiation. Potentiate Your DNA takes us beyond both Era I allopathic/mechanistic medicine and Era II 'mind-body' medicine into the transpersonal domain of Era III medicine, which lies beyond the limitations of our conscious minds, to 're-program' the energy blueprints that encode our physical bodies." Brendan D. Murphy, author of THE GRAND ILLUSION
Besides teaching a leading-edge technique you can perform for family, friends and even pets, remotely or in person, POTENTIATE YOUR DNA also presents pioneering theory linking genetics, energy, and consciousness.
POTENTIATE YOUR DNA "is both fascinating and an astounding, perhaps even world-changing theory." NEW DAWN Magazine
"It is obvious that in POTENTIATE YOUR DNA Sol Luckman has seen clearly through much of the miasma that constitutes the 'water' that our society swims in. This book presents a way of being with DNA that points to a path to and vision of wholeness that stirs the soul. He uses the term 'meta-genetics' as a handle for this new paradigm—a paradigm that goes to the Heart of the Matter—literally! I resonated deeply with much of his message, including 1) the primacy of Love … expressing first as Sound … then moving into Light as the dimensional worlds appear; 2) the use of Solfeggio frequencies and specific vowel sound sequences to activate dormant potentialities of Being and DNA; and 3) a new model of the interface between planes and chakras that allows for and even illuminates the unique individual responses to common stresses. If you love the cutting-edge of the cutting-edge … read this book!" Dr. David Kamnitzer
Go paid on Sol Luckman Uncensored Updates & Uploads (SLUUU) with a modest monthly fee to enjoy a special online ebook version of POTENTIATE YOUR DNA in all its legendary glory.
There you'll also be able to enjoy Sol's new thrill ride of a metaphysical novel, CALI THE DESTROYER, which, out of a fiercely competitive field, just emerged as the Winner of the 2022 National Indie Excellence for Visionary Fiction.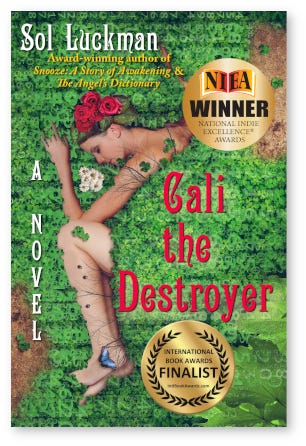 Additional regularly added content to SLUUU will include audiobooks, interviews, webinars and other juicy selections—some of which you won't have access to anywhere else.
If you wish to offer additional support for the author's mission of providing unique tools for empowering and catalyzing change in people's lives, you can become a Founding Member and have your name (optional) and website (optional and subject to approval) listed on the site's "About" page.
=> => => SO WHAT ARE YOU WAITING FOR? "POTENTIATE" YOUR DNA TODAY!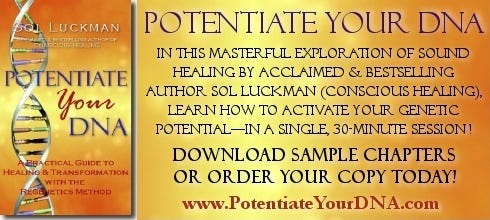 ABOUT SOL LUCKMAN
Sol Luckman is a pioneering ink and acrylic painter whose work has been featured on mainstream book covers, the fast-paced trading game BAZAAR, and at least one tattoo on a female leg last sighted in Australia. Sol is also an acclaimed author of fiction, nonfiction, and humor.
His books include the international bestselling CONSCIOUS HEALING, which you can read free online, and its popular sequel, POTENTIATE YOUR DNA, available in English and Spanish.
Sol's visionary novel SNOOZE: A STORY OF AWAKENING, the coming-of-age tale of one extraordinary boy's awakening to the world-changing reality of his dreams, won the 2015 National Indie Excellence Award for New Age Fiction.
Written with young adult and young-at-heart readers in mind, SNOOZE further proved its literary merit by being selected as a 2016 Readers' Favorite International Book Award Finalist in the Young Adult-Coming of Age category and receiving an Honorable Mention in the 2014 Beach Book Festival Prize competition in the General Fiction category.
Building on this deep dive into lucid dreaming, parallel universes and Hindu mysticism, Sol's new novel, CALI THE DESTROYER, Winner of the 2022 National Indie Excellent Award for Visionary Fiction and Finalist in both the New Age and Visionary Fiction categories of the 2021 International Book Awards, is a page-turner of a sci-fi tale set in an Orwellian future seeded in the dystopian present that radically rewrites Gnosticism as well as the origins of the earth and humanity.
Sol's popular book of humor and satire, THE ANGEL'S DICTIONARY: A SPIRITED GLOSSARY FOR THE LITTLE DEVIL IN YOU, received the 2017 National Indie Excellence Award for Humor and was selected as a Finalist in the Humor category of both the 2018 International Book Awards and the 2018 Best Book Awards.
DISCLAIMER: The Developers and all Facilitators of the Regenetics Method offer DNA activation as educators and ordained ministers, not medical doctors, and do not purport to diagnose, prevent or treat illness of any kind. Regenetics Method information and sessions are offered, and accepted, as exercises of freedom of speech and religion. The Developers and Facilitators of the Regenetics Method make no recommendations, claims, promises or guarantees relative to specific health challenges. You are solely responsible for your own medical treatment and care.