Sol Luckman
On the subject of exploring avenues for healing and transformation that is so near and dear to my heart, today I'm writing to share an extraordinary new line of nutritional products designed to support you in maximizing your potential.
Dr. Thomas Cowan, one of the world's leading holistic medical doctors and author of HUMAN HEART, COSMIC HEART: A DOCTOR'S QUEST TO UNDERSTAND, TREAT & PREVENT CARDIOVASCULAR DISEASE, believes that abundant health comes from consuming a diverse variety of nutritious plants in small amounts daily.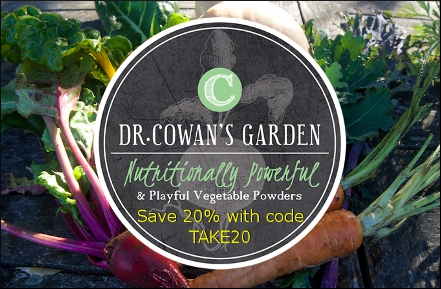 Some of the most nutritious plants are perennials that are not widely available commercially. Dr. Cowan created Dr. Cowan's Garden, "nutritionally powerful and playful vegetable powders," from his years of experience as an organic gardener, to offer a way to consume an array of vital whole foods in potent, concentrated powder forms that can be easily added to meals and smoothies.
According to Dr. Cowan, whose forthcoming book is about gardening and nutrition, enriching one's diet with these powders imparts benefits ranging from micronutrients to increased microbiome diversity.
Writes Dr. Cowan,
Vegetables give you the power to live your life with vitality and freedom from disease. To protect their vitality, we dehydrate our organically grown vegetables with low heat and store them as powders in Miron violet-glass jars. The secret to availing yourself of their disease-fighting nutrients is diversity: eat small amounts of a wide variety of plants daily, especially perennial vegetables, rather than a large amount at one or two sittings.

Because perennial vegetables grow for years, they have wider-spreading and deeper-seeking roots that take up more nutrients in the soil. These plants have significantly higher levels of minerals, vitamins and protein than annual vegetables. In addition to perennials, we powder the most nutritious annual vegetables available, such as kale, Swiss chard, tomatoes and leeks.

Some of the healthiest people who ever lived—from Native Americans to traditional Africans—consumed such plant diversity. Our vegetable powders make this approach easy, delicious and fun. You'll love how their concentrated flavors enrich any dish.
Personally, having tried them for over a month, I've found that Dr. Cowan's products:
taste wonderful, even going so far as to enhance the flavor of many dishes;

can be easily added to smoothies of various kinds;
feel just right for my body; and
give me more energy and deeper sleep.

The long-term health and wellness benefits of these nutrient-dense powders have the potential to be truly profound. In Dr. Cowan's words,
For the first time in the United States, hard-to-find perennial greens—prized for their superior nutrition—are available in an easy-to-use blend. Because perennial plants live for many years, they are able to mine the soil for nutrients unavailable to their short-lived annual cousins and so are packed with more nutrition. Dr. Cowan's Garden grows and processes a variety of perennial vegetables for its Perennial Greens Powder. These include tree collards, which are high in calcium and disease-fighting anthocyanins; gynura procumbens, which has an anti-diabetic effect; malabar spinach, which is high in fiber and rich in chlorophyll; and moringa, which reduces inflammation and is high in protein, Vitamin A, calcium, Vitamin C, iron and many more nutrients.
Learn more here.
Save 15% on your purchase with promo code DRCOWANSGARDEN.
To your health!
Copyright © Sol Luckman. All Rights Reserved.
DISCLAIMER: This article is not intended to provide medical or nutritional advice, diagnosis, treatment, promises, or guarantees. Consult your healthcare provider before taking action regarding any medical or nutritional information presented.
Inspired by this post?
Donate bitcoins: 14ptJHFnNTxRnm757CxAWFtXfggy8BpwHG
Sol Luckman is a pioneering ink painter whose work has been featured on mainstream book covers and award-winning author whose books include the international bestselling CONSCIOUS HEALING and its bestselling sequel, POTENTIATE YOUR DNA. His visionary novel, SNOOZE: A STORY OF AWAKENING, winner of the 2015 National Indie Excellence Award for New Age Fiction, is the coming-of-age tale of one extraordinary boy's awakening to the world-changing reality of his dreams. Sol's latest book, THE ANGEL'S DICTIONARY: A SPIRITED GLOSSARY FOR THE LITTLE DEVIL IN YOU, winner of the 2017 National Indie Excellence Award for Humor, reinvigorates satire to prove that—though we might not be able to change the world—we can at least have a good laugh at it. Then again, maybe laughter can transform the world! Learn more about Sol's art and writing at www.CrowRising.com.
AFFILIATE DISCLOSURE: This article contains affiliate links. The Phoenix Center for Regenetics may receive a commission for purchases made by way of these links.