~ Monthly Book Giveaway ~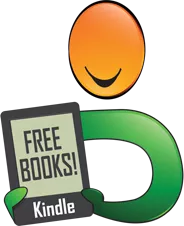 Welcome to the Readers' Favorite Monthly Book Giveaway! This is a completely free giveaway available to readers, authors, and anyone who loves to read! Each month our authors can provide a Kindle copy of their book to be given away. You can select as many as you are interested in, giving you the chance to win dozens or even hundreds of Kindle books each month!
Click the title of any book to learn more about it and check the "Select This Book" box to pick all the books you would like to win, then complete the Giveaway Entry Form and you are done! Watch your email on the first of the month and if you are the lucky winner you will receive an email with the Kindle Gift Certificate codes for each book you selected!
The complete audiobook is available with Amazon premiumplus for $0.00.
HOW DOES THIS WORK?
Please only select books that you would truly like to read. If you submit your entry and come back later and see more books you would like to select, just select all the books again and complete the Giveaway Entry Form using the same email address you did the first time and your original entry will be updated with your new selections.
Books are available via Amazon.com (US) Kindle Gift Certificate only. Your email address will not be made public or shared with anyone. Only one entry per person, per month. If you don't win, please try again next month. Authors generally participate in our giveaway for several months in the hopes of finding new fans just like you!
All we and our authors ask is that when you finish reading their book that you post a review on their Amazon page. Reviews are critical to the success of authors, and they would greatly appreciate you sharing your honest comments about their book.
CURRENT SELECTIONS BY SOL LUCKMAN …
"Irreverent in its honesty and take-no-prisoners approach, THE ANGEL'S DICTIONARY: A SPIRITED GLOSSARY FOR THE LITTLE DEVIL IN YOU is an honest appraisal of words in terms of today's sensibilities. Sol Luckman has picked up where writers like Mark Twain and Ambrose Bierce left off over a century ago, identifying new associations for words and phrases to match what they really represent today […] They say many a true word is spoken in jest, and perhaps Luckman's humor is a well-timed wake-up call to be heeded while we still have time to ask important questions." Readers' Favorite
"Luckman's dazzling abilities as a novelist abound with lyrical prose … Although [SNOOZE] chronicles a boy's transition into manhood, I would not consider it young adult. The provocative subject matter of science and spirituality is very mature … If you enjoy colorful characters, a fast-paced plot and stories that tug at your heart, this novel in eighty-four chapters is anything but a yawn." Readers' Favorite
"A thought-provoking and absorbing dystopian tale with a New Age touch [that] balances the exploration of human relationships with environmental, social, and political issues … CALI THE DESTROYER is an illuminating and deep read, and the result is a must-read tale in tune with contemporary concerns that it dresses up as an Orwellian future." Readers' Favorite
ABOUT SOL LUCKMAN
Sol Luckman is a pioneering ink and acrylic painter whose work has been featured on mainstream book covers, the fast-paced trading game BAZAAR, and at least one tattoo on a female leg last sighted in Australia. Sol is also an acclaimed author of fiction, nonfiction, and humor.
His books include the international bestselling CONSCIOUS HEALING, which you can read free online, and its popular sequel, POTENTIATE YOUR DNA, available in English and Spanish.
Sol's visionary novel SNOOZE: A STORY OF AWAKENING, the coming-of-age tale of one extraordinary boy's awakening to the world-changing reality of his dreams, won the 2015 National Indie Excellence Award for New Age Fiction.
Written with young adult and young-at-heart readers in mind, SNOOZE further proved its literary merit by being selected as a 2016 Readers' Favorite International Book Award Finalist in the Young Adult-Coming of Age category and receiving an Honorable Mention in the 2014 Beach Book Festival Prize competition in the General Fiction category.
Building on this deep dive into lucid dreaming, parallel universes and Hindu mysticism, Sol's new novel, CALI THE DESTROYER, is a page-turner of a sci-fi tale set in an Orwellian future seeded in the dystopian present that radically rewrites Gnosticism as well as the origins of the earth and humanity.
Sol's popular book of humor and satire, THE ANGEL'S DICTIONARY: A SPIRITED GLOSSARY FOR THE LITTLE DEVIL IN YOU, received the 2017 National Indie Excellence Award for Humor and was selected as a Finalist in the Humor category of both the 2018 International Book Awards and the 2018 Best Book Awards.